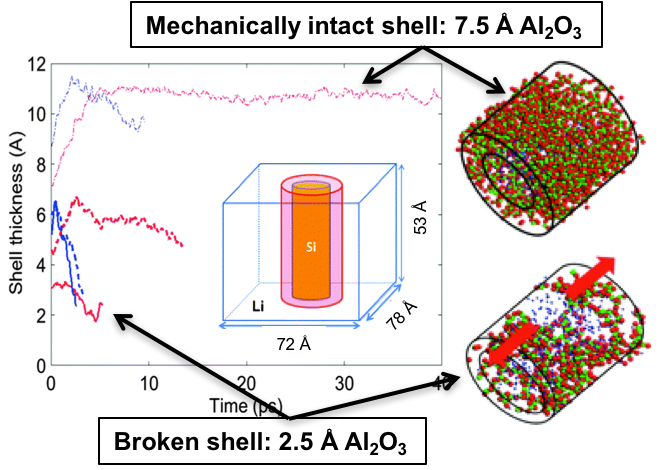 Surface coating design to stabilize nanostructured Si electrode during lithiation
Scientific Achievement
Reactive molecular dynamic simulations reveal that a Li concentration gradient in the Al2O3 shell, accompanied by an elastic modulus gradient, produces a mechanically stable core-shell nanostructure.
Significance and Impact
Newly developed Reactive Force Field (ReaxFF) molecular dynamics enables simultaneous tracking of chemical, structural and mechanical evolution of Si core-shell nanostructured electrode during lithiation, providing design guidelines to mitigate structural mechanical stress due to cycling.
Research Details
ReaxFF parameters for Li-Si-Al-O system were developed by fitting quantum mechanics dataset.
Reactive molecular dynamics (MD) simulations compare amorphous SiO2 and ALD-Al2O3 coatings(shell) on Si nanowires during lithiation.
The modulus gradient in the coating, with softer outer and harder inner regions, helps to achieve a mechanically stable coating.
References
S. Kim, A. Ostadhossein, A. van Duin, X. Xiao, H. Gao, Y. Qi, "Self-generated concentration and modulus gradient coating design to protect Si nano-wire electrodes during lithiation", PCCP, 18, P.3706, 2016.
K. Karki, Y. Zhu, Y. Liu, C. Sun, L. Hu, Y. Wang, C. Wang, J. Cumings, "Hoop-strong nanotubes for battery electrodes", ACS Nano, 7(9), P.8295, 2013.
C. Sun, K. Karki, J. Zheng, H. Liao, Y. Zhang, T. Li, Y. Qi, J. Cumings, G. Rubloff, Y. Wang, "A beaded-string silicon anode", ACS Nano, 7(3), P. 2717, 2013.
Summary
Surface coatings such as atomic layer deposited (ALD) Al2O3 layers are thought of as an effective way to improve cycling performance of nanostructured Si electrodes. However, the chemical composition change and the diffusion-induced-stress profile of the coating materials during the lithiation/delithiation process are far from being understood.
In this work, NEES scientist Yue Qi, in collaboration with other colleagues, developed the reactive force field (ReaxFF) parameters for the Li-Si-Al-O core-shell nanostructure system. Reactive molecular dynamics simulations using the ReaxFF enables simultaneous tracking of the chemical, structural and mechanical evolution of the core-shell nanostructure during lithiation. Yue Qi et al. compared the lithiation kinetics of both Si-Al2O3 and Si-SiO2 core-shell nanostructures to seek insights of the stabilizing factors in Al2O3 coating.
They identified a well-defined Li density gradient along the lithiated Al2O3 shell that leads to an elastic modulus gradient, forming a harder inner and a softer outer lithiated Al2O3 shell makeup, yielding 3 positive effects – the innermost stiff region of the less-lithiated Al2O3 helps to confine the Si electrode volume expansion; a gradual Li insertion reduces the stress associated with swelling; the Al2O3 shell itself exhibits elastic property to avoid stress concentration and crack propagation.
This new mechanics model identified a critical size ratio needed to form a mechanically stable core-shell nanostructure during lithiation & delithiation process, providing insight into the design guidelines for electrode protection layers.
Acknowledgements
This work was supported by DOE-EERE-BMR, CRA-MSME and EFRC-NEES for model development performed at U. of Michigan State.
Top