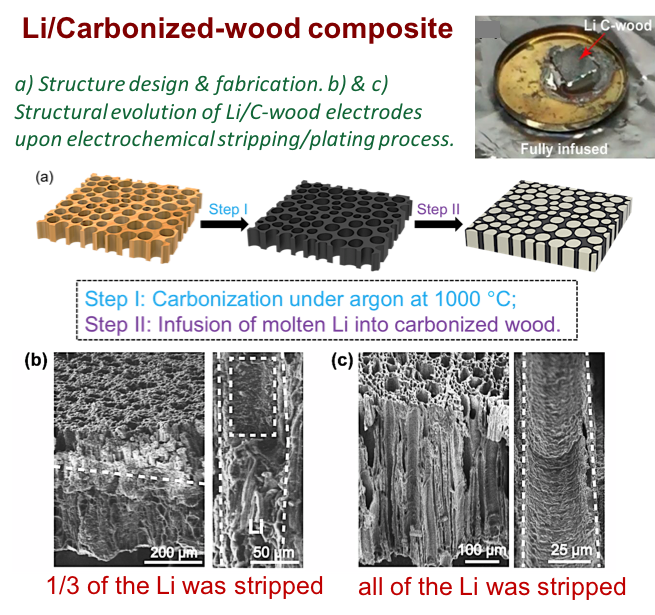 Nature-designed carbonized-wood scaffold for reversible Li+ cycling
Scientific Achievement
Wood-based anisotropic mesostructures provide a robust, highly porous & conductive 3D framework that both guides the Li stripping/plating process & contains volume changes, demonstrating long-term cycling stability under high current density (~150 h at 3 mA-cm-2) in symmetric Li ion battery cells.
Significance and Impact
Enlisting nature's design & fabrication as a new scalable synthesis paradigm, carbonized-wood mesoscale architectures achieve robust cycling of Li metal anode.
Research Details
Well-aligned 3D wood channels with lithiophilic coating (ZnO) enables a homogeneous contact with fast Li+ flux for uniform Li nucleation & growth.
Compared to bare Li metal, Li/C-wood electrode presents a lower over-potential (90 mV at 3mA.cm-2), more stable stripping/plating profiles, and better cycling performance.
Similar improved stability has been demonstrated for the Na/C-wood composite system.
References
Y. Zhang, W. Luo, C. Wang, Y. Li, C. Chen, J. Song, J. Dai, E. Hitz, S. Xu, C. Yang, Y. Wang and L. Hu, "High-capacity, low-tortuosity, and channel-guided lithium metal anode", PNAS (2017) 114 (14), 3584-3589. doi: 10.1073/pnas.1618871114.
Summary
Li metal anode with its high specific capacity (3,860 mAh.g-1) and low anode potential is extremely attractive to battery technologies, but challenges remain due to large Li volume change which would lead to the formation of SEI cracks and Li dendrites. Here we introduce a design of Li metal/carbonized wood (Li/C-wood) composite with structural properties ideally suited to address the above issues.
NEES scientists Liangbing Hu and coworkers designed and fabricated a highly porous C-wood 3D framework with well-aligned channels for Li metal anode. The C-wood electrode was fabricated by infusing metallic Li into the channel structures made possible by the ZnO coating, which ensures proper wettability and homogeneous contact with Li+ flux. The C-wood channels function as excellent guides for the stripping/plating process and effectively accommodate the resulting Li volume change. Moreover, the local current density has been significantly decreased due to the 3D channel structure to obtain uniform Li nucleation and growth while alleviating dendritic Li growth. As demonstrated in symmetric cells, the Li/C-wood electrode presents a lower overpotential (90 mV at 3mA.cm-2), more stable stripping/plating profiles, and improved cycling performance (∼150 h at 3 mA·cm−2) compared to the bare Li metal electrode.
The rational structure design of multifunctional mesoscale architectures, in this case utilizing nature-made materials that are both scalable and bio-degradable, provide a useful solution for fabricating high-capacity, dendrite-free Li metal anode.
Acknowledgements
This work was supported by DOE-EERE-BMR, CRA-MSME and EFRC-NEES for model development performed at U. of Michigan State.
Top