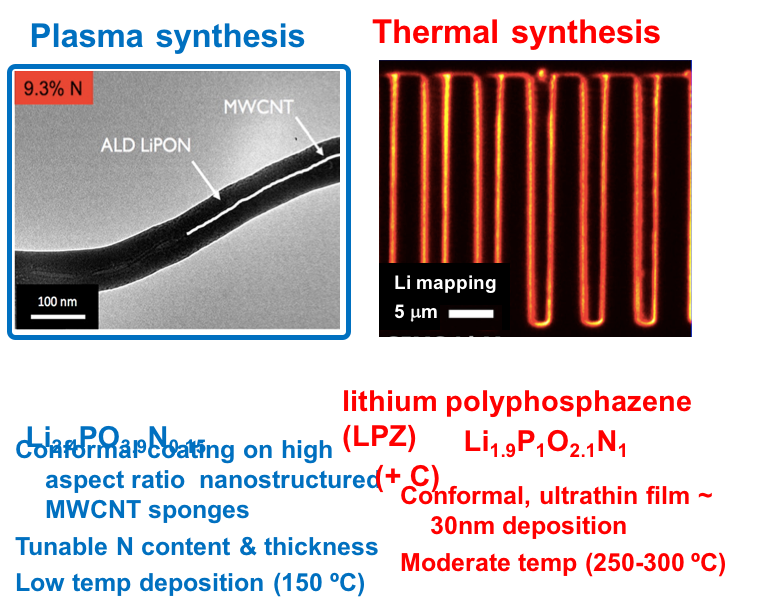 Conformal Thin-Film Solid Electrolyte Synthesis Enabled by Atomic Layer Deposition (ALD)
Scientific Achievement
We developed two ALD synthesis procedures to achieve tunable, conformal, ultrathin-film deposition for lithium phosphorus oxynitride (LiPON) solid electrolyte, demonstrating its electrochemical functionality with different substrate materials and geometries.
Significance and Impact
ALD provides ultrathin conformal solid electrolytes for
Electrode protection layers (plasma LiPON).
3D solid state batteries (thermal LPZ).
Research Details
Plasma ALD LiPON (4-precursor process) grows at low temperatures (150°C) compatible with Li and Na metal anodes.
Thermal ALD LPZ grown by 2-precursor process (Li tert-butoxide & diethyl phosphoramidate) between 250-300 ºC achieves ionic conductivity ~6 × 10−7 S/cm at 35 °C and is stable over 0.0-5.3 V vs. Li/Li+, with lower charge transfer resistance than plasma LiPON.
References
NEES ALD LiPON synthesis references
A.J. Pearse, T.E. Schmitt, E.J. Fuller, F. El-Gabaly, C-F. Lin, K. Gerasopoulos, A.C. Kozen, A.A. Talin, G.W. Rubloff, K.E. Gregorczyk, "Nanoscale Solid State Batteries Enabled by Thermal ALD of a LiPON Solid State Electrolyte", Chemistry of Materials, 2017, 29(8), pp 3740-3753. Doi 10.1021/acs.chemmater.7b00805.
A.C. Kozen, A.J. Pearse, C-F. Lin, M. Noked, G.W. Rubloff, "Atomic Layer Deposition of the Solid Electrolyte LiPON", Chemistry of Materials, 2015, 27(15), pp 5324-5331. Doi 10.1021/acs.chemmater.5b01654.
NEES 3D solid state batteries using sputtering deposition process
A.A. Talin, D. Ruzmetov, A. Kolmakov, K. Mckelvey, N. Ware, F. El Gabaly, B. Dunn, H.S. White, "Fabrication, Testing, and Simulation of All-Solid-State 3D Li-ion Batteries", ACS Appl. Mater. Interfaces, 2016, 8(47), pp 32385-32391. Doi 10.1021/acsami.6b12244.
V.P. Oleshko, T. Lam, D. Ruzmetov, P. Haney, H.J. Lezec, A.V. Davydov, S. Krylyuk, J. Cumings, A.A. Talin, "Miniature All-Solid-State Heterostructure Nanowire Li-ion Batteries as a Tool for Engineering and Structural Diagnostics of Nanoscale Electrochemical Processes", Nanoscale, 2014, 6(20), pp 11756-11768. Doi 10.1039/c4nr01666a.
Summary
The ability to synthesize uniform, conformal thin-film solid state electrolytes is a major challenge in evolving from the planar 2D geometry to the more complex 3D architectural topology in Li-ion solid state battery (SSB) design. Here, NEES research team invested in the development of vapor phase chemistry – specifically atomic layer deposition (ALD) techniques - to create LiPON-like solid electrolytes with precision control of growth at molecular (sub-nm) scale. By enabling battery structures with high aspect ratios, substantial benefits accrue in power and energy densities per areal footprint.
This work represents a substantial step forward from our previous studies (ref below), which revealed limitations in sputter deposition techniques for 3D SSBs, e.g. electrical shorts and inhomogeneous current distributions. We consequently developed two ALD synthesis procedures for LiPON solid electrolytes family: (1) low temperature plasma growth suitable and compatible with Li and Na metal anodes to provide ultrathin protection layers; and (2) a thermal ALD process for LiPON-like material (LPZ) with notable advantages that has enabled our proof of concept for the first 3D conformal Li ion solid state battery.
We are submitting a second highlight slide on the plasma synthesized LiPON for electrode protection layers. The 3D ALD Li-ion SSB publication result was just submitted to the peer-review process and the accompanying highlight will be turned in to the DOE BES upon acceptance.
Acknowledgements
This work was initiated and primarily supported and carried out by EFRC-NEES at UMD.
Top